Steffan Soule has performed "The Magic of Recycling" for Seattle Public Elementary Schools, Seattle Solid Waste, Snohomish County Elementary Schools, Snohomish County Solid Waste, Yakima, Kitsap County and other districts and States since 1990. The show currently tours nationwide.
The Magic of Recycling has won awards and is always well received by students and faculty. The numerous evaluations from faculty and staff are always remarkable; many say it is the best assembly show they have ever seen.
[alert style="info"]
The Magic of Recycling
…performed in every elementary school in Seattle, all over Snohomish County, and in many Jr. High, High Schools & Colleges. This educational program along with "The Magic of Our Water" and "The Magician with Answers about Hazardous Waste" have toured the Northwest, the East Coast, Florida and New York.[/alert]
Steffan Soule was the first magician to create this type of program, and Seattle was the first city to develop curbside recycling.
Performing for schools and children since 1979, he has a "real way with kids" and communicates effectively with children through his magic and script. Every visual and enchanting magic effect that Steffan performs demonstrates an aspect of the theme.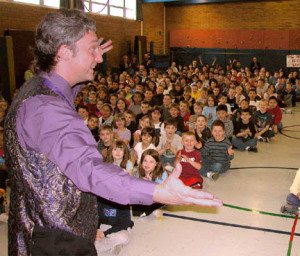 [useyourdrive dir="0B6YvZu4iC1VNfmJFUTdLZXkyQTdaVnpVUzZmTjNkSGR1dkpycUpoQ0ZuNERVTlVzcGh1ZTQ" mode="video" include="RecyclingVideo.m4v" viewrole="administrator|editor|author|contributor|subscriber|guest" mediaextensions="m4v"]