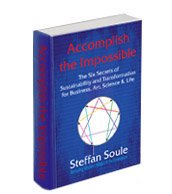 Accomplish The Impossible seeks to give teams quick and efficient solutions for perfecting the parts and pieces of their process while understanding and supporting the whole. We offer a mind-bending, perspective-changing, straight-to-the-point presentation and engaging materials for getting your team to new levels of productivity.
In the first 20 minutes of interacting with our map for working with process improvement, your people will take the bull by the horns and begin to guide your whole system toward a more profitable state. These methods bring meaning out of the processes your teams already do and provide a common language for everyone in different specialties to describe the exact work that needs our attention. When people find meaning in their work and have clear communication, anything is possible.
The book "Accomplish The Impossible" provides the entire, easy to follow system. The time for efficiency is now, and this material will set you up with the master pattern for sustainability and process improvement. Our program entertains with powerful ideas, gets results quickly and lasts as long as you have a process that needs your attention. The lead proponent, Steffan Soule, who discovered the power of the Nine Term Symbol, just happens to be a professional magician, so every program is as fun as it is informative.
Explore our on-line content and consider arranging an affordable session for your teams with Steffan Soule, author of Accomplish The Impossible, master magician and expert at sustainable process improvement.